Photos taken at a border crossing between Turkey and Syria show a devastating scene as families receive the bodies of their loved ones who died in Monday's massive earthquake.
The bodies of more than 300 Syrians who died in the quake in Turkey have been brought across the border, a spokesperson for the Bab al-Hawa border crossing said on Wednesday.
The bodies were sent back to Syria so the victims can be buried in their home country, Bab al-Hawa spokesperson Mazen Alloush said.
"Since Monday, and until now, we have been receiving bodies," he said. "The bodies of Syrians, who were in Turkey, have been sent to us from various areas and hospitals."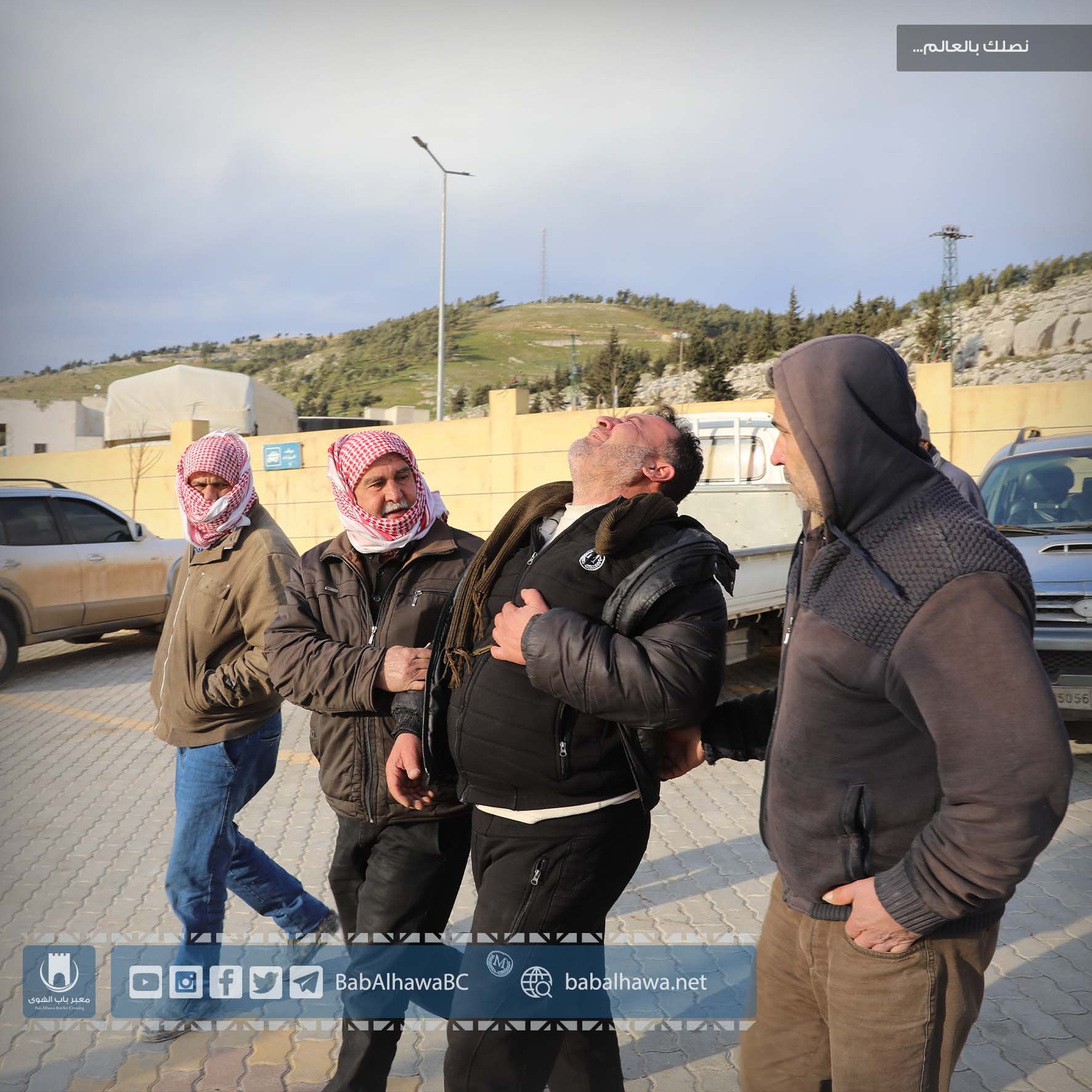 More than 15,000 people have been killed in Turkey and Syria after Monday's catastrophic earthquake, according to authorities, with the death toll expected to rise higher.
Authorities are yet to release a detailed breakdown of the victims' nationalities. Turkey is home to some 3.6 million Syrian refugees, according to UN figures, with hundreds of thousands of Syrians living in the southern province of Gaziantep, near the quake's epicenter.
Allloush told CNN no aid had yet crossed the border, but he had received notice that six aid trucks would be entering the border before noon Thursday.
According to Alloush, the six trucks would be carrying sanitary items and possibly food. 5 hr 24 min ago
Quake toll climbs as search teams battle grim conditions to find survivors. Here are the latest headlines
From Dubai-Qatar 247 staff
The death toll from the catastrophic earthquake that hit Turkey and Syria on Monday has climbed to more than 15,000 as search and rescue teams battle grim conditions with thousands of collapsed buildings and freezing temperatures.
Here are the latest developments:
Emotions running high: Turkish President Recep Tayyip Erdogan admitted to "shortcomings" amid growing anger over the state's response to the massive quake, but insisted the situation was now "under control." Meanwhile, trading on Istanbul's stock exchange was halted Wednesday after the main index plummeted in early dealing.
Twitter is back: Access to Twitter in Turkey is being restored, according to network monitoring firm NetBlocks, which said authorities had reminded the social media site of its "obligations" to take down "disinformation." The apparent block had coincided with a visit by Erdogan to quake-hit areas.
Aid efforts: The World Health Organization said it's scaling up its response in Syria and Turkey because diseases already present will be amplified in the quake's aftermath. WHO is sending medical teams and three flights of medical supplies to the region. The US military sent two civilian urban search and rescue teams to Turkey and Australia is deploying 72 search and rescue specialists to the country. Meanwhile, the EU announced a donor conference to raise funds for victims.
Syria complications: While Turkey has received an outpouring of support and aid, analysts have warned that Syrian victims may become hostages of Western sanctions imposed against the government amid the country's more than decade-long civil war. Some areas most impacted by the quake are controlled by President Bashar al-Assad's government, others by Turkish-backed and US-backed opposition forces, Kurdish rebels and Sunni Islamist fighters. The Syrian government says it has set up more than 100 shelters equipped with aid supplies across areas it controls.
Border crossing restored: Meanwhile, the road leading to the Bab al-Hawa border crossing between Turkey and Syria is accessible after it was damaged by the quake, according to a UN official. A spokesperson for the crossing said it had not seen any international aid as of Wednesday but had received the bodies of more than 300 Syrians who died in Turkey.
Survivors still being found: There have been some dramatic rescues, including that of two sisters who spent 62 hours under their collapsed building in Gaziantep, Turkey. Search and rescue teams in the southern city continue to look through the rubble for survivors.
US nationals killed: At least three US citizens died in the quake in southeastern Turkey, and four Australians remain unaccounted for in the country, according to officials. Meanwhile, two Ukrainians believed to have died in the quake were found alive in the rubble of a house.
Tough conditions: Extreme winter weather is impacting rescue efforts. Aftershocks are also a potential hazard — at least 125 measuring 4.0 or greater have occurred since the 7.8 magnitude quake struck southern Turkey on Monday, according to the US Geological Survey. Though their frequency and magnitude are decreasing, 5.0 to 6.0+ aftershocks remain possible and bring a risk of additional damage to compromised structures and a continued threat to rescue teams and survivors.