Rescue teams have continued searching for survivors buried in the rubble of thousands of buildings destroyed in Turkey and Syria by disastrous earthquakes that killed more than 15,000.
Turkish President Recep Tayyip Erdogan on Wednesday visited a "tent city" in Kahramanmaras, where people forced from their homes are living. He conceded "shortcomings" but vowed that no one would "be left in the streets."
Turkey now has tens of thousands of aid personnel in the quake zone, and search teams from about thirty countries have joined them. But with the damage so widespread, many are still waiting for help. And an unknown number of people are still trapped under the rubble.
The sprawling scale of the disaster that flattened thousands of buildings has swamped relief operations already hampered by freezing weather, AFP reported.
Survivors have been left to scramble for food and shelter — and in some cases watch helplessly as their relatives called for rescue, and eventually went silent under the debris.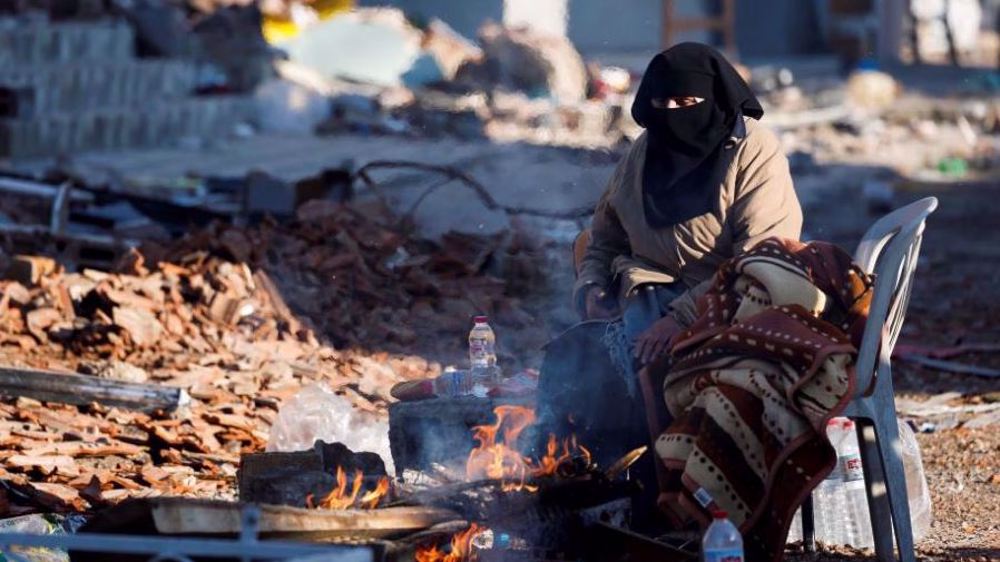 "My nephew, my sister-in-law and my sister-in-law's sister are in the ruins. They are trapped under the ruins and there is no sign of life," said Semire Coban, a kindergarten teacher, in Turkey's Hatay.
"We can't reach them. We are trying to talk to them, but they are not responding… We are waiting for help. It has been 48 hours now," she told AFP.
Still, searchers kept pulling survivors from the debris three days after the 7.8 magnitude quake that is already one of the deadliest this century, even as the death toll continues to rise.
Children saved
The window for rescuers to find survivors is narrowing as the effort nears the 72-hour mark that disaster experts consider the most likely period to save lives, according to AFP.
Yet on Wednesday, rescuers pulled children from under a collapsed building in the hard-hit Turkish province of Hatay, where whole stretches of towns have been leveled.
"All of a sudden we heard voices and thanks to the excavator… immediately we heard the voices of three people at the same time," said rescuer Alperen Cetinkaya.
"We are expecting more of them… the chances of getting people out of here alive are very high," he added.
Officials and medics said 12,391 people had died in Turkey and at least 2,992 in Syria from Monday's 7.8-magnitude tremor, bringing the total to over 15,000 — but that could yet double if the worst fears of experts are realized.
In Brussels, the EU is planning a donor conference in March to mobilize international aid for Syria and Turkey.
"We are now racing against the clock to save lives together," said EU chief Ursula von der Leyen on Twitter.
"No one should be left alone when a tragedy like this hits a people," von der Leyen said
'People dying every second'
Due to the scale of the damage and the lack of help coming to certain areas, survivors said they felt alone in responding to the disaster.
"Even the buildings that haven't collapsed were severely damaged. There are now more people under the rubble than those above it," a resident named Hassan, who did not provide his full name, said in the rebel-held town of Jindayris.
"There are around 400-500 people trapped under each collapsed building, with only 10 people trying to pull them out. And there is no machinery," he added.
The White Helmets, leading efforts to rescue people buried under rubble in Syria, have appealed for international help in their "race against time".
They have been toiling since the quake to pull survivors out from under the debris of dozens of flattened buildings in northwestern areas of war-torn Syria that remain outside the government's control.
A leading UN official called for the facilitation of aid access to rebel-held areas in the northwest, warning relief stocks will soon be depleted.
"Put politics aside and let us do our humanitarian work," the UN's resident Syria coordinator El-Mostafa Benlamlih told AFP in an interview.
Syria appeals for EU help
The issue of aid to Syria was a delicate one, and Damascus made an official plea to the EU for help, the bloc's commissioner for crisis management Janez Lenarcic said.
The European Commission is "encouraging" EU member countries to respond to Syria's request for medical supplies and food, Lenarcic noted.
Dozens of nations, including the United States, China and the Persian Gulf States have pledged to help, and search teams as well as relief supplies have already arrived.
The European Union was swift to dispatch rescue teams to Turkey after the massive earthquake struck the country on Monday close to the border with Syria.
But it initially offered only minimal assistance to Syria because of EU sanctions imposed since 2011 on Assad's government.
Calls grow for US to lift sanctions against Syria
Calls are growing for the US and its allies to remove their sanctions, which are hampering international aid efforts in the quake-stricken war-torn country.
China has now added its voice to an international outcry over the sanctions, with foreign ministry spokesperson Mao Ning urging the US to remove its unilateral sanctions on Syria and provide convenience for humanitarian assistance to the quake-hit regions in the Arab country.
Mao said the US has been involved in the Syrian crisis for a long time with frequent military intervention and harsh economic sanctions, which have caused a large number of civilian casualties and made it difficult for people to obtain basic living guarantees.
"Up to now, the US military is still occupying the main oil-producing areas of Syria, plundering more than 80 percent of the oil production, smuggling and burning Syrian food stocks, which are making the humanitarian crisis there worse," Mao said.
Syria has been a target of US sanctions since 1979, when it was blacklisted as a state sponsor of terrorism by Washington. Since the start of the Syrian conflict in 2011, the US and its Western allies have dramatically tightened their economic sanctions and restrictions on the Arab country.
The US sanctions intensified with the passing of the Caesar Act in 2019, which targeted any individual and business that participated either directly or indirectly in Syria reconstruction efforts.
Earlier, the Syrian foreign ministry said the US sanctions are blocking humanitarian work in Syria.
In a statement, the ministry said that the Syrians, while dealing with the earthquake catastrophe, are digging among the rubble with their own hands or using the simplest tools as equipment for removing the rubble is banned by the US sanctions.
The Turkey-Syria border is one of the world's most active earthquake zones.
Monday's quake was the largest Turkey has seen since 1939, when 33,000 people died in eastern Erzincan province.
In 1999, a 7.4 magnitude earthquake killed more than 17,000.